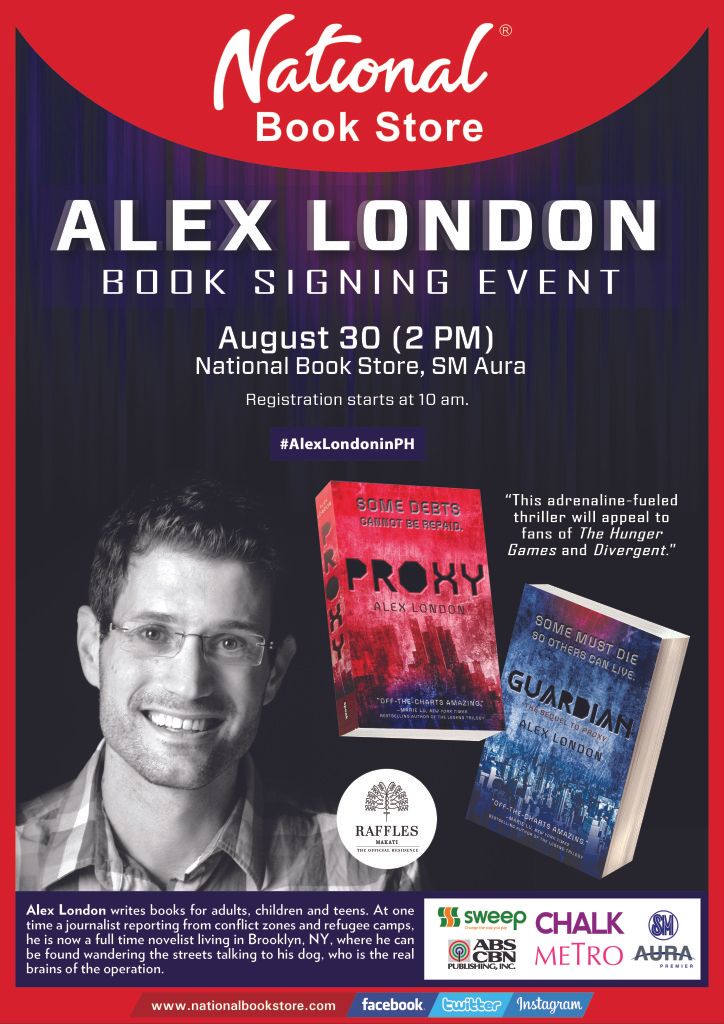 Alex London, bestselling author of Proxy and Guardian, visited our country for a book signing event held in SM Aura, last Saturday, August 30. As the poster above suggests, the event was hosted by National Bookstore. Kudos for a VERY organized event!

[Photo credits to my Peculiar siblings: Charm, Karrel, Godwin, and Eriele!! Love you guys xx]
I really did not plan on being an early bird, since I really overslept, but I was shocked to find out that there was still no line in SM Aura, or whatsoever, and I think it could be called serendipity, sort of. I arrived at 3:15-3:30 AM, and yes, I waited until the doors opened. It wasn't really that boring, because of the chats I've had with some of my bookworm friends. The wait was kinda included in the ride.
These were taken early in the morning, about 6 or 7. Our faces didn't register the lack of sleep we encountered, did they?
The mall opened early, and the cool air greeted us, and we were grateful (haha). During the other half of the wait, we actually raided the event area and took photos of ourselves in weird, wacky, and random poses.
I am so not ashamed of this.
After lunch, and a bit more time, he came! He wore a pink plaid shirt and casual pants (yes, I need to be specific). Miss Yvette, the host for this event, asked some questions, and Alex answered sincerely. He talked about his ventures as a journalist, his travels to the Congo, and meeting a boy who loved tor read. It was a very touching story, and he himself was on the verge of tears.
There were also many hysterical moments during the event. For instance, he winked, almost goofy, at the crowd, and then asked "Have I seduced you yet?". Another one was when he told us that he was grateful for letting him feel like Tiffany. (I'm not familiar with her, because as far as I remember, she was from the '90s)
He also talked about his love life, and how his husband was his reason to wake up in the morning. It was sweet and ''aww'' inducing.
Now for the signing proper.
It was really organized, and the staff were kind to us. He was very nice to the readers, and he talked to them, to us, rather, with an enthusiastic voice.
I was first, so I seized the moment and asked for a hug.
The first three (if I'm not mistaken) also received buttons with his iconic face. I felt like laughing (but not rambunctiously, sort of remembering something)
Another thing is that, the Alex London Street Team made a shirt (like the one we wore) and prepared one for him too. Our shirts got signed by him, so in return, we signed his.
When we gave it to him, along with the dedication card, he immediately wore it! Then we stumbled on the stage in order to be included in some photos, hahaha.
Lastly, we kinda stalked the pretty representative from Philomel to sign our books, and she agreed! We were really fainting because of the good happenings that day!
The event was really worth it and I really enjoyed the journey I went through to meet one of my favorite authors. It was tiring yet fun, and I am looking forward to more events like this!