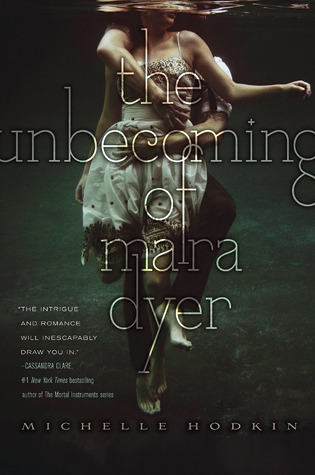 The Details
Title: The Unbecoming of Mara Dyer
Author: Michelle Hodkin
Number of Pages: 452
Publishing Date: October 23, 2012
Publisher: Simon & Schuster Books for Young Readers
The Synopsis
Mara Dyer doesn't think life can get any stranger than waking up in a hospital with no memory of how she got there. It can. She believes there must be more to the accident she can't remember that killed her friends and left her mysteriously unharmed. There is. She doesn't believe that after everything she's been through, she can fall in love. She's wrong.
The Review (may or may not contain tidbits of spoilers)
ROMANTIC.
I couldn't possibly explain how long I've been dying to read this book. I laid my eyes on the cover, and I fell in love with it. It's probably the gist, the image of Mara and Noah underwater, and that awesome texture of the binding altogether that gave it away. I've been hearing a lot of GREAT stuff about this book, too. Like how it's very spine-chilling, and how it made the readers go insane. It's also volume one of the Mara Dyer Trilogy, and I doubt it if I could make it without committing myself to a mental institution.
First of all, the characters. You know that feeling you get when you want the protagonists to suck it up, be brave, and kick ass? Well, that's kinda what you get in The Unbecoming. Although living side-by-side a dosage of Zyprexa, Mara Dyer always finds the courage to stand up for herself. Especially in her school life. She rocks it. And then there's the gorgeous Noah. In the first part of the book, you'd really see that ass-crown side of his. He seemed so egotistical, and narcissistic. But once you reach a certain chapter, you'd lose it. I tell you, because I know I DID. I'm sort of spoiling you, but their love is intoxicatingly beautiful, it shreds me into a billion bits. Then there's Jamie. I really liked his character. He was that trustworthy and hilarious friend a typical girl could have. Mara really cared for him, and she was greatly devastated when dumb-blondes get what they want. As a reader, I realized that I sympathize with her, feeling the pain of losing someone important to you.

And then we have the family. I think they are the most well-crafted characters so far. The brothers, who are really the ideal siblings one could have. The paranoid mother, typical, but very intriguing. And the father. He was really close to Mara in the book, and after a certain-incident-I'm-not-mentioning, she was really hurt and mentally nullified, and you know, stuff happened (spoilers!). I really think that aside from the crazy-as-hell plot and the hallucinations and everything, this could be a cliche teenage-romance novel for me. But Michelle's writing was so dark and humorous and delicious and sexy, it masked the OTHER idea and forged it into a very hurtful and sadistic read for us people of the unorthodox norms.


(SPOILERS ON THIS PARAGRAPH)
The plot. I really loved it. I devoured every single page of the book until I hit that last line, but I was scared as hell in the process. Mara is one creepy girl. With all those hallucinations?! That scene with the picture-door swap-a-roo? WHAT?! ARE YOU KIDDING ME?! And who would forget about that bath tub? No one. Not even my grand kids' grand kids. While I was reading the book, chapter-by-chapter, I lost track of time. And as soon as I saw that "popcorn sound" near the end, I was losing it. Finally, as I reached that last line, that last thought she had in her mind about a dead friend someone, I snapped. Literally.
Yeah, I really, really liked it. But when I logged on to Goodreads, I was shocked. Many people rated it with 2-3 stars only. Why? It really deserved better. Aside from everything, and I mean it, there's a deeper meaning to Mara's vagueness and anonymity to the outside world. She feels alone, desolated, beause of what she can do. Then again, that's only me.
The Rating
This intricately crafted novel needs 5 grenades. I really enjoyed it, treasuring those sexy yet mind-blowing moments, and YOU. HAVE. TO. PICK. IT UP.