Wow. It's been so long since I've done a Waiting on Wednesday post! Blame this on school. haha
This week, I'm gonna be featuring books with evil girls, sinister women, and female villains.
We have: Fairest and The Wicked Will Rise!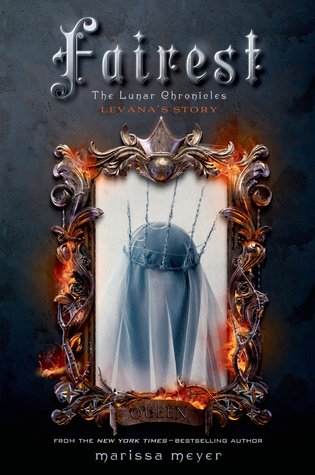 Details
Title: Fairest
Author: Marissa Meyer
Number of Pages: 256 (HB)
Publication Date: January 27, 2015
Publisher: Feiwel & Friends
Synopsis (Goodreads)
In this stunning bridge book between Cress and Winter in the bestselling Lunar Chronicles, Queen Levana's story is finally told.
Mirror, mirror on the wall,
Who is the fairest of them all?
Fans of the Lunar Chronicles know Queen Levana as a ruler who uses her "glamour" to gain power. But long before she crossed paths with Cinder, Scarlet, and Cress, Levana lived a very different story – a story that has never been told . . . until now.
Marissa Meyer spins yet another unforgettable tale about
love
and war, deceit and death. This extraordinary book includes full-color art and an excerpt from Winter, the next book in the Lunar Chronicles series.
About the Author
I live in Tacoma, Washington, with my fiancé and our two cats. In addition to my slight obsession with books and writing, I'm big on road-tripping, wine-tasting, and hunting for antiques. I'm represented by Jill Grinberg.
Details
Title: The Wicked Will Rise
Author: Danielle Paige
Number of Pages: 432 (HB)
Publication Date: March 31, 2015
Publisher: HarperCollins
Synopsis (Goodreads)
To make Oz a free land again, Amy Gumm was given a mission: remove the Tin Woodman's heart, steal the Scarecrow's brain, take the Lion's courage, and then Dorothy must die....
But Dorothy still lives. Now the Revolutionary Order of the Wicked has vanished, and mysterious Princess Ozma might be Amy's only ally. As Amy learns the truth about her mission, she realizes that she's only just scratched the surface of Oz's past—and that Kansas, the home she couldn't wait to leave behind, may also be in danger. In a place where the line between good and evil shifts with just a strong gust of wind, who can Amy trust—and who is really Wicked?
About the Author
Danielle lives in NY. Before turning to YA, she worked in television & was nominated for several Daytime Emmy's. Dorothy Must Die is her first novel.