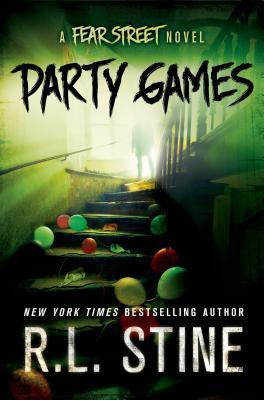 The Details
Title:
Party Games
Author:
R.L. Stine
Number of pages:
288
Publishing Date:
September 30, 2014
Publisher:
St. Martin's Griffin
The Synopsis
Her friends warn her not to go to Brendan Fear's birthday party at his family's estate on mysterious Fear Island. But Rachel Martin has a crush on Brendan and is excited to be invited. Brendan has a lot of party games planned. But one game no one planned intrudes on his party—the game of murder. As the guests start dying one by one, Rachel realizes to her horror that she and the other teenagers are trapped on the tiny island with someone who may want to kill them all. How to escape this deadly game? Rachel doesn't know whom she can trust. She should have realized that nothing is as it seems… on Fear Island.
R.L. Stine makes his triumphant return to Shadyside, a town of nightmares, shadows, and genuine terror, and to the bestselling series that began his career writing horror for the juvenile market, in the new Fear Street book Party Games.
The Author
R. L. Stine began his writing career when he was nine years old, and today he has achieved the position of the bestselling children's author in history. In the early 1990s, Stine was catapulted to fame when he wrote the unprecedented, bestselling Goosebumps® series, which sold more than 250 million copies and became a worldwide multimedia phenomenon. His other major series, Fear Street, has over 80 million copies sold.
Stine has received numerous awards of recognition, including several Nickelodeon Kids' Choice Awards and Disney Adventures Kids' Choice Awards, and he has been selected by kids as one of their favorite authors in the NEA's Read Across America program. He lives in New York, NY.