Lo! Welcome to my first ever Top Ten Tuesday post! This feature was created by The Broke and the Bookish (link on the pic) and it is a weekly event wherein bloggers post their own list, according to the given topic.
So here's mine! :D
TOP TEN FAVORITE TV SHOWS!
10. House of Anubis
Yes, this is outdated. I mean, the show stopped airing what? Two years ago? But still, this would be one of my favorite shows. The plot itself was interesting enough. It focused on the adventures of Nina (at least in the first season) and the mysteries of her dormitory, Anubis house.
9. Goosebumps
Reader beware-you're in for a scare.
That was the tagline of the chain of books by R.L. Stine entitled Goosebumps. They were horror stories intended to spook children to young teens, and I (having some of the books myself) gotta say that they were written wonderfully. The books were turned into a TV Series back in the 90's and I've watched the episodes. They were fine, but there's that sense of something scary while watching.
8. Adventure Time
Who wouldn't love Finn & Jake? Fiona and Cake? I mean really. This duo is one of the most adorable pairs in all of cartoon network history. Also, they live in an un-explicitly-stated-but-definitely-defined post apocalyptic world. WHICH IS RAD, by the way. They also have awesome and dangerous (but fun) adventures, travelling as far as "hell" (or Night-o-sphere) . Please, a round of applause for this bunch!
*claps*
7. Hannibal
HANNIBAL. Yes. Hannibal. The one who serves human-meat to his guests (and human-flesh-infused wine, etc..) This show is freakingly-gorgeous! It screams psycho to me. I don't know about you.
6. Another
I really don't know if this counts as a TV Show, but what the heck.
I love this creepy anime. I literally love it. The gore and the suspense and the slight prick of romance? Oh my gods in Olympus.
Have I mentioned that their class is cursed? That each year, they go around in a killing spree-
oops.
hahahahahaha. I lost my mind watching this.
5. Breaking Bad
I was ranting to my classmates about how good Breaking Bad was, and there was a shocking revelation. Some of them AREN'T allowed to WATCH BB. Bullsh*t! Right? Same goes for GoT but Breaking Bad?!?!?! I mean, it doesn't teach about drugs or anything. It has VALUES.
Breaking Bad is about building relationships and camaraderie. So please.
If you haven't watched Breaking Bad yet, watch it.
Now.
4. Game of Thrones.
Ugh. The irritating part rages on. To continue where we left at BB, I have to share that some of my classmates aren't allowed to watch this too :( I kind of pity them. They said that it has sexual and violent content, but I don't think that those things define a TV Show.
AHHHHHH. Game of Thrones!! I devour it. haha. It's about politics and maybe revenge and stuff, but it is so good. There are gruesome WEDDINGS and dragons and sort-of-werewolves (direwolves) and sort-of-zombies (whitewalkers) so please, I beseech you to watch this too!
3. American Horror Story
I know, I know. I'm sorry. I like this better than GoT. I really loved everything. From Murder House to the latest season Coven, everything was perfect. But I am biased with Coven, as I love witchcraft and such. Also, the characters were good! Well, the actors didn't change but the characters masked their true personalities, and oh gods, the ending!!!!!!!!!!!
PLEASE.
And here's the teaser for the upcoming season American Horror Story: Freakshow
!!!
2. Sherlock
Benedict Cumberbatch. The original Sherlock Holmes + modern twist. 2-year interval between seasons and each season consists of 3 episodes. Nuff said.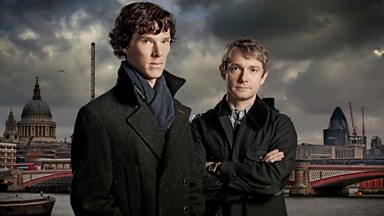 1. DOCTOR WHO
Warning: From this point on I will be using gushing language, so please. Beware.
OH MY GOSH OH MY GOSH OH MY GOSH.
This series is pure genius. It is a sci-fi adventure series written by a series of authors. There are aliens, monsters, angels, people, the Doctor, Daleks, and shiz!
There are omni-sexual 51st Century Men!
The Doctor (a dude, per regeneration) KISSES other men!
Again, Aliens!
River Song!
Donna Noble!
Please please please please please please please please please watch this!!!!!!!!!
Don't Blink.
That concludes my Top Ten Tuesday post!!!!!! Stay tuned for more!!!!!