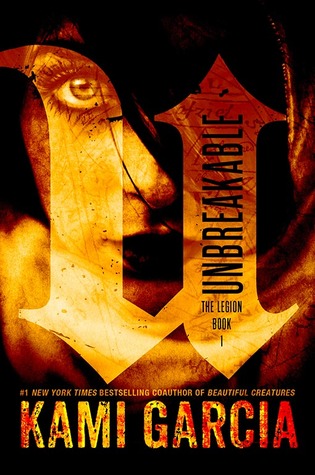 The Details
Title:
Unbreakable
Author:
Kami Garcia
Number of Pages:
305
Publishing Date:
October 1, 2013
Publisher:
Little, Brown Books for Young Readers
The Synopsis (by Goodreads)
When Kennedy Waters finds her mother dead, her world begins to unravel. She doesn't know that paranormal forces in a much darker world are the ones pulling the strings. Not until identical twins Jared and Lukas Lockhart break into Kennedy's room and destroy a dangerous spirit sent to kill her. The brothers reveal that her mother was part of an ancient secret society responsible for protecting the world from a vengeful demon — a society whose five members were all murdered on the same night.
Now Kennedy has to take her mother's place in the Legion if she wants to uncover the truth and stay alive. Along with new Legion members Priest and Alara, the teens race to find the only weapon that might be able to destroy the demon — battling the deadly spirits he controls every step of the way.
The Review
I must say, I was really intrigued with this book's cover. It's very creepy, much like the story. I mean look at it! If that doesn't give you the chills, I don't know what does. And like many books that I've read before, this one itched my back, begging me to read it. So I did.
Yes, it may be astonishingly similar with Supernatural. So what? It was still a freaky read.
Let's start with the characters. First off, is the story's heroine - Kennedy Waters. A lot of people have been saying that she's not much of a heroine, that she's boring and all those. Well I think that it may have had something to do with the fact that she's been going through a lot of devastating and shocking things? I mean, she's not as emotionally strong as the rest of them. Well, I must agree to the others, though. Kennedy WAS a bit dull. She was ready to defend herself when they were fighting spirits and all those, but she was often provoked. Next are the twins. I can imagine them being gorgeous, you know. The average badass duo. But they're very different as well. Jared, is very cold and intimidating at times, but he really has a soft spot. His brother could be the opposite. Lukas is very gentle and outgoing, but he has a different side to him that is really off-putting, in a good way. What I DIDN'T like about them was their obvious attraction to the same person - Kennedy. I mean really? Isn't it a bit too coincidental for identical twins to fall in love with a girl? Was that REALLY necessary? Why not make the other twin fall for Alara? Or heck, even Priest?!

Moving on, there's Alara. She's that kind of girl who's better off as the main character, but I think that the story would traverse a very different path if that would be the case. Lastly, there's Priest. A 15 year-old who is tired of being left behind. One thing though. He's really smart. By the way he looked at things, the way he invented weaponry for the Legion, you could easily infer that if he wasn't doing all those spirit-demon things, he would probably be in school, three grades higher than his age group.
Next off is the story. The very first chapter was already scary , but during the next couple chapters or so, it gets really boring. Then you go back to that creepy freaky stuff, involving ghosts and poltergeists and dybbuks and all other things, and you find yourself unable to close the book. It develops into a very interesting world where seeing spirits and talking to them is natural. Also, those lovey-dovey moments just destroyed me because of their repercussions. And that twist with a certain prisoner?!?!?!?!?!?!?! I lost it. By the time I reached the last chapter I was already drooling because it was such a cliff hanger I could feel myself dying!
But I think that in order for this series to be successful and be well-known, it should have a better protagonist. Sometimes I agree with those goodreads users for labeling Kennedy as dull, even. An honest opinion. She was really awesome as a character but at times the mood shifts and... you fill the gaps. That's all.
The Rating
For, I will give 3 out of 5 grenades! It had a very interesting story and characters, but somehow I feel unsatisfied with Kennedy. I hope her personality gets pumped up in Unmarked!Also, that love-triangle bit with the twins was totally unnecessary, so I hope they correct it in the second book! :)