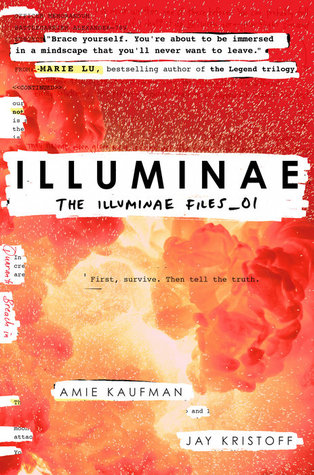 Title:
Illuminae (The Illuminae Files #1)
Authors:
Amie Kaufman and Jay Kristoff
Number of Pages:
599 (HB)
Publication Date:
October 20, 2015
Publisher:
Knopf Books for Young Readers
Synopsis
This morning, Kady thought breaking up with Ezra was the hardest thing she'd have to do.




This afternoon, her planet was invaded.





The year is 2575, and two rival megacorporations are at war over a planet that's little more than an ice-covered speck at the edge of the universe. Too bad nobody thought to warn the people living on it. With enemy fire raining down on them, Kady and Ezra—who are barely even talking to each other—are forced to fight their way onto an evacuating fleet, with an enemy warship in hot pursuit.





But their problems are just getting started. A deadly plague has broken out and is mutating, with terrifying results; the fleet's AI, which should be protecting them, may actually be their enemy; and nobody in charge will say what's really going on. As Kady hacks into a tangled web of data to find the truth, it's clear only one person can help her bring it all to light: the ex-boyfriend she swore she'd never speak to again.





Told through a fascinating dossier of hacked documents—including emails, schematics, military files, IMs, medical reports, interviews, and more—Illuminae is the first book in a heart-stopping, high-octane trilogy about lives interrupted, the price of truth, and the courage of everyday heroes.
Review
I've been wanting to review this book for quite some time now, but I couldn't figure out how to fully grasp what I felt about this story. It was so high-octane, it took me several months to write this! Or maybe that's just an excuse for my sloth (NOT!), I may never find out. What I DO know, however, is that I find this story, plot, and style rather terrific. Perfect. My palate says yes!
This is soooo unlike me, but I shall start with the writing style. Okay. I kind of expected this right from the start, but it still blew me away. Even the ARC (mind you, mine was HARDBOUND!) covers seemed like they hid something fishy. Instead of employing that usual narrative for most books, this one's like all of the world's imagination was squeezed out, put into a blender, and used as the ink for publication. Basically, it's like this dossier (that's the official term) of hacked/leaked documents, emails, floor plans, advertisements (which proved to be scarier than usual), blue-prints, and.........artificial intelligence. I mean, if those don't get you hooked I don't know WHAT does. It's HIGHLY reminiscent of Scholastic's Black Book of Buried Secrets, using the same technique as that Cahill treasure. The difference being Illuminae actually has a plot with the denouement and all that. It's incredible. When I heard this was happening, as well as the fact that it's also going to be the same genre as my fave show Doctor Who, I was ready to sign up and worship this beast. Seriously. It's that good.
Um, because you're loopier than Flacky McPsycho, Mayor of Crazytown?
Admittedly, though, I do concede to the fact that the first part kind of bored me. But I guess that was just the authors' way of preparing you for the techno-thrill/science-fiction blast at the latter scenes. We start off with Kady Grant fleeing off of Kerenza IV, their planet at the edge of the galaxy, and then proceed to what it's actually like to live on a starship. I didn't expect that from a dossier-esque novel, but it worked perfectly. Kady and Ezra's relationship was also an integral part of the plot (in my opinion, at least), and it's borderline shameful to admit that I found myself bawling on the floor because of how hilarious some scenes were.
You have me. Until every last star in the galaxy dies.
You have me.
Following quite a while after the first half of the book, however, things got out of hand. In a good way, I mean. Suddenly Kady's doing these stunts. Suddenly AIDAN's (Artificial Intelligence) acting weird. Suddenly there's a VERY high death toll! It was kinda expected right from the start, but it still surprised me by the time Kady's escape pod jettisoned. It was one massive thrill ride. By the last hacked email (FINALLY), and the last REVELATION, I was actually gripping the edges of the book, afraid to tear it apart.
Am I not merciful?
With the onset of the second installment to this magnificent line of work, Gemina, and all of these reasons + many more, I am proud to give this rollercoaster FIVE out of FIVE grenades!
About the Authors
Amie Kaufman is the New York Times bestselling co-author of Illuminae (with Jay Kristoff) and These Broken Stars, This Shattered World, and Their Fractured Light (with Meagan Spooner.) She writes science fiction and fantasy for teens, and her favourite procrastination techniques involve chocolate, baking, sailing, excellent books and TV, plotting and executing overseas travel, and napping.
She lives in Melbourne, Australia with her husband, their rescue dog, and her considerable library. She is represented by Tracey Adams of Adams Literary.
Jay Kristoff is the New York Times and internationally bestselling author of THE LOTUS WAR, THE ILLUMINAE FILES and THE NEVERNIGHT CHRONICLE. He is a winner of multiple Aurealis Awards, nominee for the David Gemmell Morningstar and Legend awards, named multiple times in the Kirkus and Amazon Best Teen Books list and published in over twenty-five countries, most of which he has never visited. Being the holder of an arts degree, he has no education to speak of. He is 6'7 and has approximately 13030 days to live. He abides in Melbourne with his secret agent kung-fu assassin wife, and the world's laziest Jack Russell. He does not believe in happy endings.
That wraps up my review for the gorgeous book Illuminae! How about you guys? Have you read this masterpiece? I'm sorry it took me ONE YEAR to write this review! HAHA.