It's been a while, yeah? So to kick-off my blog's revival since my awfully long hiatus, here I have a Waiting on Wednesday post! I really missed this! And you guys!
For today's feature: Persuasion!
GORGEOUS COVER.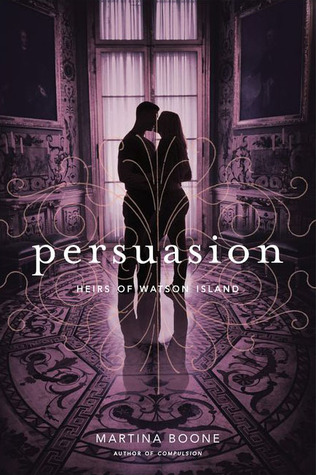 Details
Title: Persuasion
Author: Martina Boone
Number of Pages: 464 (HB)
Publication Date: October 27, 2015
Publisher: Simon Pulse
Synopsis (Goodreads)
Grieving the death of her godfather and haunted by her cousin Cassie's betrayal, Barrie returns from a trip to San Francisco to find the Watson plantation besieged by reporters and ghost-hunters. Some are hoping to see the ancient spirit who sets the river on fire each night, while others are chasing rumors of a stolen shipment of Civil War gold that may be hidden at Colesworth Place. Chaos descends as Cassie hires a team of archeologists to excavate beneath the mansion ruins. But more is buried there than treasure.
A mysterious, magical man appears at Watson's Landing, claiming the key to the Watson and Beaufort gifts and the Colesworth curse also lies beneath the mansion. With a mix of threats and promises, he engages Barrie and Cassie in a midnight visit, but the spell he conjures has potentially deadly consequences.
While Barrie and dreamy Eight Beaufort struggle to make sense of the escalating danger and their growing feelings for each other, Barrie has to figure out not only whom to trust, but which gift is more reliable—Eight's or her own. With millions of dollars and the fate of the founding families at stake, she must choose between what she feels deep in her heart and what will keep her loved ones safe.
About the Author
Martina Boone was born in Prague and spoke several languages before learning English. Her first teacher in the U.S. made fun of her for not pronouncing the "wh" sound right, so she set out to master "all the words"—she's still working on that! In the meantime she's writing contemporary fantasy set in the kinds of magical places she'd love to visit.
If you like romance steeped in mystery, mayhem, Spanish moss, and a bit of magic, she hopes you'll look forward to meeting Barrie, Eight, Cassie, Pru, Seven and the other characters of Watson Island.