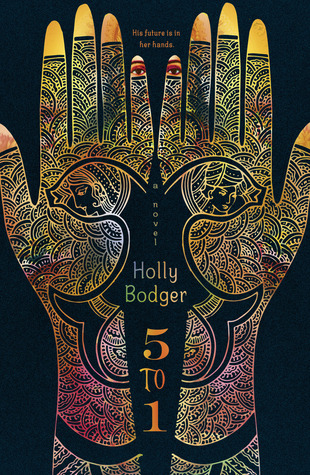 Okay. Today, I'm gonna be reviewing 5 To 1 by Holly Bodger. And after that is my fun interview with her, where we asked each other some questions regarding poetry and such!
DISCLAIMER: I was given the chance to read the e-ARC of 5 To 1 by the author. All opinions stated in this post are of my own without anyone's influence.
Details
Title: 5 To 1
Author: Holly Bodger
Number of Pages: 224 (HB)
Date of Publication: May 12, 2015
Publisher: Knopf Books for Young Readers
Synopsis
In the year 2054, after decades of gender selection, India now has a ratio of five boys for every girl, making women an incredibly valuable commodity. Tired of marrying off their daughters to the highest bidder and determined to finally make marriage fair, the women who form the country of Koyanagar have instituted a series of tests so that every boy has the chance to win a wife.
Sudasa, though, doesn't want to be a wife, and Kiran, a boy forced to compete in the test to become her husband, has other plans as well. As the tests advance, Sudasa and Kiran thwart each other at every turn until they slowly realize that they just might want the same thing.
This beautiful, unique novel is told from alternating points of view-Sudasa's in verse and Kiran's in prose-allowing readers to experience both characters' pain and their brave struggle for hope.
Review
5 To 1 is set in a futuristic, woman-powered nation wherein the ratio of boys to girls is very unbalanced. To compensate for this, the authorities conduct Tests for all the males, in order to determine who marries and who works for the Wall (which is literally a wall). There are two protagonists. The first one is Sudasa, a girl who doesn't want to be controlled by her family anymore. Then there's Kiran (Sudasa doesn't discover his name until late in the book), a boy with a plan other than marrying. Sudasa's point of view is in verse while Kiran's is in prose.
Fair
is the weather.
Fair
is a complexion.
Fair
is not
something you are;
something you do.
The first thing I noticed in this book is its uniqueness. It's the first time I've encountered a work wherein two types of writing are employed (two VERY different types). I must say, that astounded me and it piqued my interest the minute I saw it.
"Which means you see what you want,
and you want what you see,
and if I have anything
to say about it
that will
never
be
me."
Sudasa's point of view was really deep and delicate. She doesn't want to follow her Nani's orders and just live according to her own beliefs. Her anger and hatred towards control finally overwhelms her when she finds the most unexpected person in her tests. She realizes that she doesn't need to follow anyone ordering her, but live her own life using her own thoughts to guide her. Her internal conflicts are also apparent in this book, which I loved, and I was able to sympathize with her at all times. She doesn't want to follow the country's dogma, and I get that, since its policies are way too inhumane. I would go as far as saying that if you put the laws of Koyanagar (the futuristic nation in the book), and the laws of the modern world, it would be dubbed as an oxymoron.
On the other hand, Kiran's POV shows how much he wants to just ditch the whole Test thing in order to accomplish his granddad's plan. Each time I reach his POV, I always feel a certain rush which I only get when reading intense prose. Kiran is angry. He knows what he wants, and he won't hesitate to do anything to achieve it. He is as strong as his grandfather's metaphors, brusque at everything he does, and persistent at whatever his goal is.
"But when I leave, I won't think about that. I will forget her and her sad eyes and her awful future.
Won't I?"
Overall, 5 To 1 is a pretty amazing book. The innovative writing implemented by Holly really impressed me. Her poetry was delicate and dynamic. It was filled with action and REaction. Whereas the prose in itself bombarded me with sympathy for Kiran. The author attempted to pull off an ambitious novel, and she executed it well. The ending, well, it was open-ended. And I adore open-ended books. It left me imagining how the characters would continue on with their lives after everything that transpired. Also, this book is a perfect example of a perfectly-executed book with a touch of diversity and some sort of mysticism that is reflected on the (proper) usage of cultural references and imagery. It needs the applause and hype it deserves!
Rating
I am rating this book 5 out of 5 grenades, because of its ambitious and unique writing, and perfect execution. I also loved the characters and the book's open-endedness.
About the Author (from her site)
A long-time resident of Ottawa, Canada, I have been working in publishing since I graduated with an English degree from the University of Ottawa.
I am represented by Lauren MacLeod of The Strothman Agency, LLC. My debut novel, 5 TO 1, will be coming out May 12, 2015 from Knopf (Penguin Random House).
I am also the author of TEN which was a finalist for the 2013 RWA Golden Heart (YA Category)
Interview!
The interview part of this post will be broken down into two parts: 1) Miss Holly interviews me; 2) I interview Miss Holly!!
1. Who is your favorite poet?
I adore a lot of poets, but my favorites are: William Shakespeare, Robert Frost, Edgar Allan Poe, Lang Leav, and Jose Garcia Villa (known as the Comma Poet, and his pseudonym Doveglion).
2. a) Have you ever given someone a poem you wrote?
Yes. Actually, a lot!
b) Did they think you were cocobananas?
I haven't been regarded as cocobananas yet! Although, it would be interesting if I were given that description. :)
3. Do you write your poems while sitting or standing?
I write when I'm sitting comfortably on my chair. Writing while standing isn't one of my strengths, sad to say.
4. What do you write them on? Computer? Phone? Paper? Napkins? Random food labels?
Sometimes, I write on my laptop, especially if I'm working on a piece which I'm gonna use in a competition. But in most cases, I write on a vintage journal I got from a novelty store. I also edit pictures and add poetry. Something like this:
5. If you could meet any poet (alive or dead) who would you pick?
I'd love to meet Jose Garcia Villa, since he is one of my Filipino idols, for revolutionizing the usage of commas in poetry. He also made some blank-page poems, which until now, even if they're enigmatic, strike me with awe. I'd also love to meet Lang Leav, since I wasn't able to attend her tour here in the Philippines! I really adore her and I love her work.
SECOND PART
1. Hello Miss Holly! Thank you for being in this interview. First question! Can you introduce 5 To 1 to the readers out there?
Thank you for having me, Raffy! *smiles at audience*
5 TO 1 is set in 2054 in a fictional country that used to be a small city in India. The country was created after severe gender selection left India with very few girls which created an environment ripe with crime and violence. In an effort to create fairness between the genders, the leaders of the new country institute a series of tests which are supposed to help girls choose their future husbands. 5 TO 1 is about one of the girls who is about to choose and one of the boys who does not want to be chosen.
2. Where did you get the idea of creating this futuristic woman-powered Indian society, and what drove you to publish it?
When I read the article that inspired this book (which happened to be about the near-future problems for countries where boys outnumber girls) I got to thinking about a future where the only girls left ended up with the richest and most powerful husbands. I was struck about how ironic it would be if the very gender that wasn't wanted ended up being the one with the most power.
As for publishing, I have wanted to publish a book since I was about six years old. It just took me a little longer than I expected!
3. A major thing about this book is its unique and "innovative" style of writing: Combined prose and poetry. Where did you get that concept?
I have been writing poetry since I was in grade school and had wanted to write a novel in verse for a long time. When I came up with the idea for Sudasa (the main character) she struck me as the kind of girl who lived a little in the clouds and thus the verse was perfect for her. Kiran's point of view was added much later. In his case, I knew he had to be a very pragmatic and down-to-earth guy and thus his style of narration is more factual and straight-forward.
4. I noticed that the poetry in 5 To 1 is rather nicely executed and written. Did you hone your skills in poetry over time or were you a natural poet?
I published my first poem when I was around ten years old (this was a rhyming verse that was inspired by an episode of Magnum PI!) I continued to write poetry throughout high school and university, but turned to prose when I started to write novels about a decade ago. Writing a novel in verse requires skills in several areas. You need to understand basic story structure, but you also need to know how to convey this story in a succinct yet visual way. This was definitely a challenge I hadn't faced before writing this book!
5. In an author's point of view, can you give some pointers and/or tips for those aspiring poets—such as myself—out there?
Well, my first advice would be not to give poems to boys who break your heart because there's a good chance they will think you're cocobananas (learned that one the hard way! ) Seriously, poetry is an art and art can never be wrong. Follow your own rules and always leave your eyes and your ears and your heart on the page.
6. What impact does poetry have on you?
To me, poetry is like a language I learned as a child that I absolutely must speak when the mood strikes me. I feel the same way about dancing and drawing. Sometimes, you just gotta dance.
1. Sun or rain? Sun!!!
2. Roses or tulips? Tulips.
3. Marshmallows or Chocolate Chips? Marshmallows but they have to be roasted over a campfire!
4. Hot or cold? Hot.
5. Coffee or tea? Definitely tea. I drink 3-4 kinds each day!
6. Europe or Asia? Asia.
7. Prose or Poetry? I can't pick. That's why my book is half of each!
Lastly, can you give a short message for all the readers and people reading this blog entry right now?
I took a big chance when I wrote this book. Dystopian was kind of oversold and verse has never been an easy sell, so a half-verse dystopian set in a fictional country in the near future? Yeah, cocobananas. Despite these obstacles, I knew I had to write this book so I did it anyway and now here I am and it is almost published. What this has taught me was best put by the great Robert Frost: "Two roads diverged in a wood, and I—I took the one less traveled by, And that has made all the difference."
I really enjoyed interviewing Miss Holly (and answering her questions)! And 5 To 1 is a really amazing book. I hope you could try and pick it up when it gets released!