Follow my blog with Bloglovin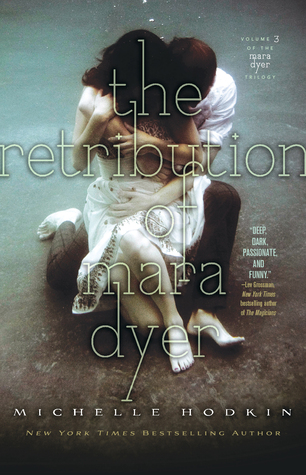 Hi! So we've been waiting for this ever since the dawn of time, and if you weren't, then I suggest you start reading the trilogy, because it's AMAZING. Also, this is actually the second book I've finished for DEAR. Here's my review!
*Note: I've decided to remove the "Details" section of my reviews.
Synopsis
Mara Dyer wants to believe there's more to the lies she's been told.
There is.
She doesn't stop to think about where her quest for the truth might lead.
She should.
She never had to imagine how far she would go for vengeance.
She will now.
Loyalties are betrayed, guilt and innocence tangle, and fate and chance collide in this shocking conclusion to Mara Dyer's story.
Retribution has arrived.
Review
Upon reading the first chapter of this book, I've already sensed that it would be an empowering read. I wasn't mistaken. In each chapter, the adrenaline rushed to me and I had to chew on each page just to keep my overflowing emotions in. The Mara Dyer trilogy has had a great effect on me since it began. I empathized with Mara all the way, and I really got her as a person. She was a badass character, and yet she seemed so fragile, especially when Noah came into play.
As per tradition, in each installment, Michelle Hodkin provided me with brief moments of normal living; humor amidst the madness that they were experiencing. For those of you who have not yet read this trilogy (and I suggest you do) , this is something to expect. I found that comforting, just to take a break from everything and have a carefree moment. Most books don't have this, just too-overwhelming scenes, and those are unsettling, for some reason. I'm really grateful to Michelle for this.
"Taste the rainbow, bitch!"
Another thing. I love how readable this book was. I literally flipped through the pages, and the next thing I knew, I've already finished it! The pacing was perfection, and no scene in the book could've been considered "unnecessary". Even near the conclusion, when the narration became so poetic, the pacing was still perfect enough for me to devour the book itself.
The catharsis that I felt when I reached the certain drama-inducing parts (such as the post-train-mishap) was too unfathomable for me to have understood at that time. I was so emotional, because Mara went through a LOT, and us fans know it. To think that anything could add to the weight she was carrying, ugh. It made me cry for her. And let me just add: It always has something to do with her family, right??
Lastly, the characters. I loved each and every one of them, even those who left. I enjoyed reading about them. I felt that I got closer to them somehow, like as frienda. Stella was a fun character, even if she..... did things, and Jamie was so supportive and loyal. I'd like for them to be my friends too (including Mara, Daniel, and Noah), please! Furthermore, Daniel was the perfect sibling. Everything that he did for Mara really astounded me. I couldn't believe that he'd actually go out of his comfort zone drastically just for Mara. Another tear-jerking fact, mind you.
And don't get me started on a certain someone. Ugh! I wouldn't say it even if you knew the person, so as not to spoil anyone unfamiliar with this trilogy. But legitimately:
"You'll love him to ruins."
Rating
If you love high-octane psychological Young-Adult reads, then this is exactly for you. Although it would be advisable if you've already read The Unbecoming of Mara Dyer and The Evolution of Mara Dyer. But you can also read from the last, if you want.
Verdict: I am hereby giving this book 5 out of 5 grenades (but I could easily give this a 6)
About the Author
At the age of sixteen, Michelle Hodkin lost the rights to her soul in a poker game with pirates just south of Natchez. Shortly thereafter, she joined an acting troupe and traveled the world performing feats of wonder and mischief. She has been seen on stages nationwide and earned rave reviews for her one woman performance of Titus Andronicus before writing the New York Times bestselling Mara Dyer Trilogy. The Unbecoming of Mara Dyer and its sequel, The Evolution of Mara Dyer are available now, and the third book in the trilogy, The Retribution of Mara Dyer, hits shelves on November 4th, 2014. Michelle lives with her three rescued pets and may or may not be a reliable narrator of her own life.