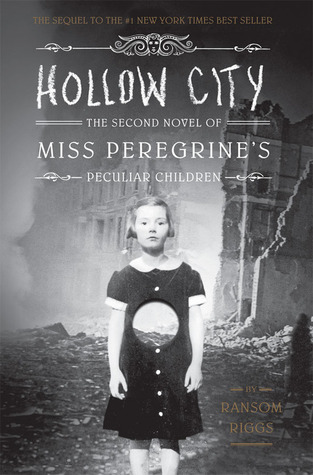 Title:
Hollow City
Author:
Ransom Riggs
Number of Pages:
412 (PB)
Publication Date:
February 24, 2015
Publisher:
Quirk Books
Synopsis
Miss Peregrine's Home for Peculiar Children was the surprise best seller of 2011—an unprecedented mix of YA fantasy and vintage photography that enthralled readers and critics alike. Publishers Weekly called it "an enjoyable, eccentric read, distinguished by well-developed characters, a believable Welsh setting, and some very creepy monsters."

This second novel begins in 1940, immediately after the first book ended. Having escaped Miss Peregrine's island by the skin of their teeth, Jacob and his new friends must journey to London, the peculiar capital of the world. Along the way, they encounter new allies, a menagerie of peculiar animals, and other unexpected surprises.

Complete with dozens of newly discovered (and thoroughly mesmerizing) vintage photographs, this new adventure will delight readers of all ages.
This is actually a re-read. I first read Hollow City last year, around the time when it came out. I find it weird that I wasn't able to review it then. But oh well! Here it is now!
Hollow City began exactly where Miss Peregrine's Home for Peculiar Children left off, with the gang of Peculiars running (or rather, rowing) for their lives amidst a 1940 Europe flocked with armies from the continent and beyond. I found this connection peculiarly (no puns, please!) unfamiliar, since most of the sequels I've read began with entirely different events, sometimes skipping or flashing back through time. This is one strong point of the book. For me, Ransom's writing is organic in a way that each piece and device of the plot worked together efficiently in making us understand what Hollow City is really about. Each detail was intricately connected to the next, even up until the big plot twist at the end.
"Strange, I thought, how you can be living your dreams and your nightmares at the very same time."
Speaking of the big plot twist, I was surprised at how it still surprised me. I know that it's going to happen, I expected to feel "meh" upon reading that revelation, but somehow it still shocked me. I contemplated and I realized that it's because of a detail that I might have missed or forgotten. What detail? Here. I'll try my best to hide the spoiler. Remember when they saw the "patients", and Jacob noted how the whispering man kept on whispering "call" all the time............... That was the one line which made me gasp, meriting me with worried faces from my family. It all links back to how well the details complement each other and how each revelation is hinged on these. *bravo*
"Laughing doesn't make bad things worse any more than crying makes them better."
Although there were parts which came off as unappealing or too cliche for me (like some of the anachronistic and untimely romantic scenes with Jacob and Emma), I feel like Hollow City still has bigger fish to fry. I love how Ransom wrote about the didactic in a way that wasn't obvious like your typical fairytale "In the ends", but rather complementing the plot more so. I mean, I personally believe that one of the main morals in the Miss Peregrine series is about fighting your inner monsters, and it couldn't have been discussed better than by having your main character struggle with himself and the outside world claiming that he was crazy, could it? Identity was also discussed in the book, and I think that it was thoroughly addressed by Jacob's questioning personality, and the other characters' response to that.
Lastly, Ransom explained in an interview somewhere about the relation of Hollow City to Miss P. He said that Miss P was a mere introduction to the peculiar world, and Hollow City marks the start of its exploration. And I have to agree with that. I think that peculiardom was widely present in this second book, as we got a taste of what it's like in other loops, with other ymbrynes, and other peculiars. I also liked the journey in between these loops, how the characters dealt with "the past being the past" and all those timey-wimey (yes, I've now finally channeled Doctor Who) stuff about them. Indeed, everything's so peculiar and whatnot in Ransom's world. He is unfaltering in his way of story-telling, and I can't wait to see more of his work!
About Ransom Riggs
I'm Ransom and I write books. I also love taking (and finding) photographs, making films, traveling to places that are tricky to find on maps, urban exploring, and scuba diving, which is kind of like urban exploring, except with fish and shipwrecks instead of abandoned houses. If you want to connect with me on social media, I tweet and Instagram a lot, and post somewhat less frequently to my YouTube and Tumblr pages. So welcome, have a look around, and please don't break anything.
(from ransomriggs.com)
That's it for this review! Have you guys read Hollow City? Tell me below in the comments what you think about it! Also, if you liked this review, you can follow me (sidebar) to be updated anytime whenever I post!