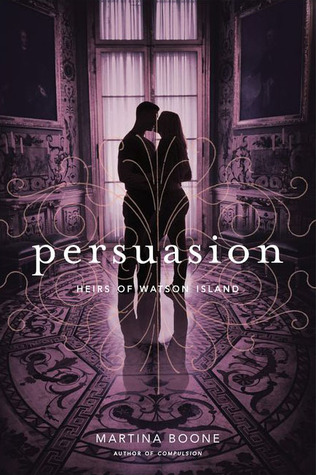 Title:
Persuasion
Author:
Martina Boone
Number of Pages:
464 (HB)
Publication Date:
October 27, 2015
Publisher:
Simon Pulse
Grieving the death of her godfather and haunted by her cousin Cassie's betrayal, Barrie returns from a trip to San Francisco to find the Watson plantation under siege. Ghost-hunters hope to glimpse the ancient spirit who sets the river on fire each night, and reporters chase rumors of a stolen shipment of Civil War gold that may be hidden at Colesworth Place. The chaos turns dangerous as Cassie hires a team of archeologists to excavate beneath the mansion ruins. Because more is buried there than treasure.

A stranger filled with magic arrives at Watson's Landing claiming that the key to the Watson and Beaufort gifts—and the Colesworth curse—also lies beneath the mansion. With a mix of threats and promises, the man convinces Barrie and Cassie to cast a spell there at midnight. But what he conjures may have deadly consequences.

While Barrie struggles to make sense of the escalating peril and her growing and forbidden feelings for Eight Beaufort, it's impossible to know whom to trust and what to fight for—Eight or herself. Millions of dollars and the fate of the founding families is at stake.
As a member of the Martina Boone's Street Team, I'm here to present an excerpt from the newly released sequel to Compulsion, Persuasion! I'd like to give a huge thanks to Martina for sending this excerpt!
Excerpt
Eight pulled the tire swing even closer, his head tipped forward until his mouth was less than an inch from
hers. "You asked me a while ago what I really want. I want time to learn to understand you, every insecurity in your brain, and every gallant, aggravating impulse."
An imaginary orchestra had begun to play inside Barrie's head, some golden, epic song with drums and crashing cymbals and joyful violins. She wished she could tell Eight what she was planning, tell him about Obadiah and the lodestones and trying to break the Colesworth curse. Mostly, she wished
she could tell him there was a chance to give him what he wanted. But what if it didn't work? She couldn't bear it if he was disappointed.
"I'm a girl," she said. "You're not supposed to understand me."
"Most girls are all too easy to understand. People usually want the same petty things, for the same boring reasons." He leaned even closer until the words were whispered against her lips. "The fact that I don't understand you may be what I love about you. I'm not going to change my mind about that. Give me credit for having a few brains in my head to go with my undeniable good looks and charm."
"There's that self-confidence deficit disorder again."
"But you believe me now."
It was starting to rain, and Barrie tipped her head up to the sky, hoping it wasn't going to be a long or heavy shower. They couldn't end the conversation here. She didn't want the night to end.
"Lift up a bit. Hold on to the top of the swing." Eight reached back into the space inside the tire and, with a flourish, pulled out a red umbrella. "You see? I came prepared. I should have been an Eagle Scout."
Barrie laughed, she couldn't help it. "I have to admit, you don't seem like a red umbrella kind of guy."
"But you are exactly the kind of a girl who needs a red umbrella."
"What kind of a girl is that? The kind who doesn't want to get wet?"
"The kind who ought to come with a warning label."
That's it for today's post! Persuasion is out in bookstores everywhere!