Guys!!! You might wanna check this out. It's the launching of Compulsion, today!!!!!
I just can't fathom how excited I am right now.
I've been eyeing Compulsion for quite a while now, as far as the past summer goes. It has a really interesting premise, and the reviews I've seen so far are great! I can't WAIT to pick this book up!
Now for the slight announcement. The author, Martina Boone, was actually very kind to let me join her Street Team! It's such an honor for me to be a part of this wonderful thing.
Another announcement! In this post, there are two splendid giveaways! Be sure to check those out!
First things first, what the book is about (I'm just gonna put the cover again here because of its dazzling beauty, haha)
Details
Title: Compulsion
Author: Martina Boone
Number of Pages: 448
Publication Date: October 28, 2014
Publisher: Simon Pulse
Synopsis
All her life, Barrie Watson has been a virtual prisoner in the house where she lives with her shut-in mother. When her mother dies, Barrie promises to put some mileage on her stiletto heels. But she finds a new kind of prison at her aunt's South Carolina plantation instead--a prison guarded by an ancient spirit who long ago cursed one of the three founding families of Watson Island and gave the others magical gifts that became compulsions.
Stuck with the ghosts of a generations-old feud and hunted by forces she cannot see, Barrie must find a way to break free of the family legacy. With the help of sun-kissed Eight Beaufort, who knows what Barrie wants before she knows herself, the last Watson heir starts to unravel her family's twisted secrets. What she finds is dangerous: a love she never expected, a river that turns to fire at midnight, a gorgeous cousin who isn't what she seems, and very real enemies who want both Eight and Barrie dead.
Book Trailer
This trailer is really mesmerizing!
Buy the book!
Amazon
The Book Depository
Giveaways!
(first time to do a giveaway here! lol)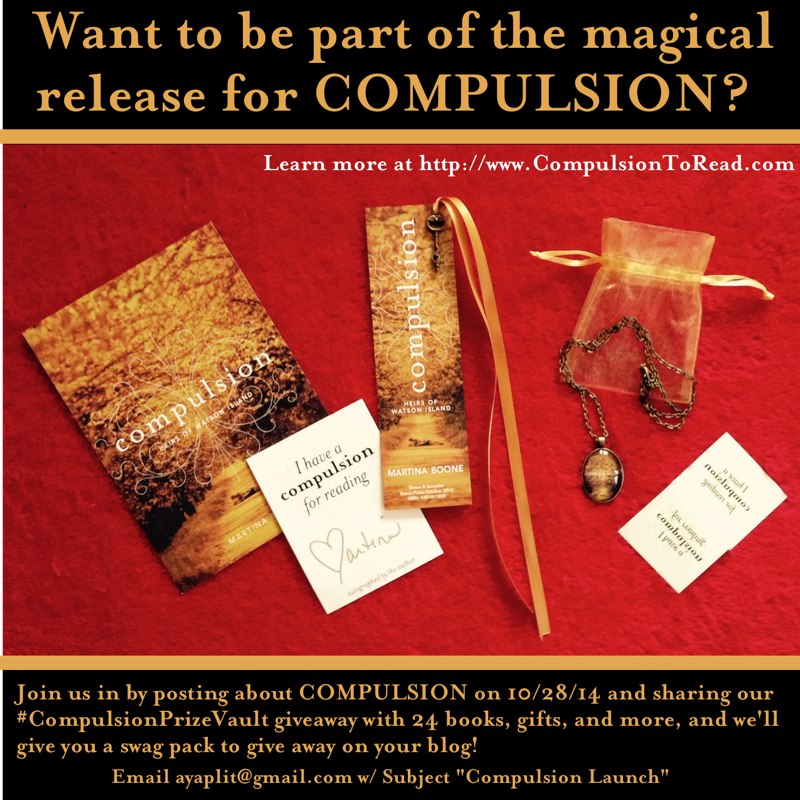 This first one is relatively easy. You just have to comment about compulsion, or even this giveaway, and I'm gonna pick who's gonna receive this package!
The next one has MANY PRIZES. books signed, swag, and many many more!!! Just go to this link
HERE
and do the rafflecopter steps there. Hurry up! It runs only until October 31!!!!
So yeah, guys, please please join these giveaways because there are loads of prizes that you'll love! That's all, and see you next time!