Sorry I haven't been able to post last week! Anyway, here's my pick for this week's Waiting on Wednesday. It's by one of my favorite authors, and I'm really ecstatic to share my glee for this wonder! Waiting on Wednesday is a weekly event hosted by Breaking the Spine.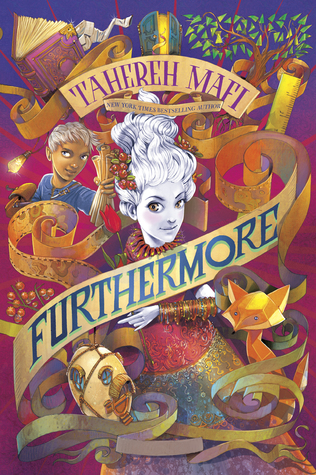 Title:
Furthermore
Author:
Tahereh Mafi
Number of Pages:
416 (HB)
Publication Date:
August 30, 2016
Publisher:
Dutton Books for Young Readers
Synopsis
There are only three things that matter to twelve-year-old Alice Alexis Queensmeadow: Mother, who wouldn't miss her; magic and color, which seem to elude her; and Father, who always loved her. The day Father disappears from Ferenwood he takes nothing but a ruler with him. But it's been almost three years since then, and Alice is determined to find him. She loves her father even more than she loves adventure, and she's about to embark on one to find the other.

But bringing Father home is no small matter. In order to find him she'll have to travel through the mythical, dangerous land of Furthermore, where down can be up, paper is alive, and left can be both right and very, very wrong. Her only companion is a boy named Oliver whose own magical ability is based in lies and deceit--and with a liar by her side in a land where nothing is as it seems, it will take all of Alice's wits (and every limb she's got) to find Father and return home to Ferenwood in one piece. On her quest to find Father, Alice must first find herself--and hold fast to the magic of love in the face of loss.
My Thoughts
I'm so excited for this. When Tahereh first announced what the title would be, I got a vague idea on what it's going to be about. But when the cover reveal and the synopsis release happened, bam. Instant click. I've always loved Tahereh's Shatter Me trilogy, and now I'm so pumped to read a Middle-Grade story from her!
About the Tahereh Mafi
She was born in a small city somewhere in Connecticut and currently resides in Santa Monica, California, where she drinks too much caffeine and finds the weather to be just a little too perfect for her taste.
When unable to find a book, she can be found reading candy wrappers, coupons, and old receipts.