Another Blog tour! Follow it by clicking on the banner! :)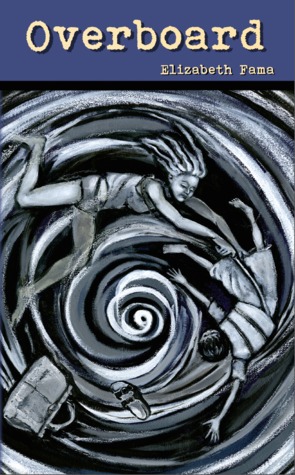 Title:
Overboard
Author: Elizabeth Fama
Number of pages: 186 (paperback)
Publication Date: June 29, 2015 (re-issued)
SynopsisOne moment of rashness, and fourteen-year-old Emily Slake finds herself amid hundreds of panicked and drowning people in the dark ocean waters off Sumatra. Miles from shore without a life vest, she resolves to survive. But in facing the dangers of the ocean, the desperation of her fellow survivors, and her own growing exhaustion, Emily must summon wits and endurance she's not sure she has.
Striking out on her own, Emily encounters Isman, a frightened young Muslim boy, floating in a life vest. Together they swim for their lives, relying on Emily's physical strength and Isman's quiet faith.
Based on a true story, Overboard is both a riveting tale of survival and a sensitive portrayal of cross-cultural understanding in a time of crisis.
Review
Overboard follows the tale of a 14 year-old American girl named Emily Slake, while she and her parents were staying in Sumatra, Indonesia. Her parents, Olivia and James, were doctor volunteers who aimed to help young people around the world. The plot centers on Emily and her ventures on a sinking ferry on the way to an island called Weh, as well as her feelings about everything—life, her parents, 4herself, even religion.
When I saw the plot for this book, I thought that it was a Middle Grade story. That appears to be so, except the themes involved in the novel are much, much more intricate and complex for a book targeted supposedly aimed to children. I liked that though, as it can teach well-rounded values and lessons to anyone who reads it. It has a simple, yet eventful storyline which can be easily understood.
Character-wise, however, it's an entirely different thing. I liked how mature Emily thought. How she called her parents by their first names. She undergoes a development so powerful and moving in the story. Emily's character is complex, but it took me no time at all to connect to her. Her greatest defining feature is that she's lonely. She missed her old school, friends, and all other things they left behind in America. She's coming of age, and I related to her because I underwent the same things she did. We get to see a lot more to Emily's personality through the supporting characters that she encounter. Isman, the boy she meets on the waters of Sumatra, also contributed to a large fraction of Emily's development as an individual. They stuck together and helped each other during the most crucial points of their journey towards safety.
There's something about the writing that's reminiscent of the style employed by classic, Western novels such as To Kill A Mockingbird and The Catcher in the Rye. There's a pervading calm yet gray atmosphere, and the internal conflicts of the characters are evidently darker. However, there were parts in the book that seemed over-used or cliché, but that feeling lasted only briefly. It was given justice by the smooth finish of the book. Proper closure was given, even if it was slightly open-ended.
But heck, I love open-ended books!

Rating
I'm rating this book with 4/5 grenades! Overboard is a mellow (yet melancholic) way of reading something with a general sad mood.
Giveaway
Elizabeth Fama is giving a paperback of Overboard away! Go check the details in the Rafflecopter!
a Rafflecopter giveaway
About the Author
Plus One was published by Farrar, Straus and Giroux in April, 2014. A 2015 RITA award finalist, Plus One was also a highlighted book in VOYA magazine, and was listed among the "Top 12 Young Adult Books of 2014" in the Huffington Post.
Monstrous Beauty, was published by Farrar, Straus and Giroux in September, 2012. It won won the 2013 Odyssey Honor Award, and was included on the 2013 YALSA Best Fiction for Young Adults list and the 2013 YALSA Amazing Audiobooks for Young Adults list.
My first novel, Overboard (Cricket Books, 2002), was named a 2003 Best Book for Young Adults by the American Library Association (one of only eleven books selected unanimously by the committee that year). It received the 2002-2003 honor award from the Society of Midland Authors, and it was nominated for five state readers' choice awards (New Hampshire, Texas, Illinois, Utah, and Florida).